Hotel near Downtown Charleston, SC
Book your stay at the Crowne Plaza hotel near Downtown Charleston, SC to enjoy close proximity to South Carolina's oldest city, and one of the "World's Best Cities" according to Travel + Leisure Magazine! A delightful mix of old southern charm and modern innovation, the city of Charleston is home to a number of exceptional museums, restaurants, entertainment venues, and more!
Plan Your Day in Charleston
Start your day off in Charleston's French Quarter, where you can learn more about the area's 300-year-old history through historic attractions like the Pink House Tavern, and The Doc Street Theatre. From there, head to one of the city's most prominent museums, like The Charleston Museum to learn more about the city's Confederate history.
Strolling through the streets of Charleston, visitors can take in all the stunning colonial and neoclassical architecture that still lines the streets. Check out the Nathanial Russell House for an inside look at one of the area's most stunning homes, originally built in 1808.
There are a ton of incredible places to eat in the area, so don't miss the chance to check some of them out while staying at our hotel near Downtown Charleston, SC! We're known for Lowcountry-style cuisine, which features classic southern dishes with African influences. In recent years, Charleston has sprung up as one of the leading culinary cities in the south.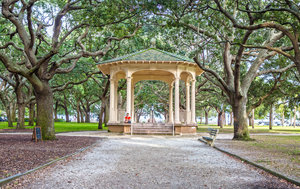 Getting There
Guests staying with us at the Crowne Plaza Charleston Airport & Conference Center hotel near Downtown Charleston can enjoy easy access to the city center throughout their stay! Just across the street from our hotel, at the Tanger Outlet Mall, guests can easily hop on the North Charleston Shuttle, which will bring them to the Downtown Visitor's Center with ease. This express service runs 7 days a week from 8 AM- 8 PM, and costs $7 for a roundtrip ticket.
For more information on what to do during your visit to Downtown Charleston, ask one of our friendly staff members! Locals to the area, they know exactly what to recommend so you can make the most of your stay at our hotel near Downtown Charleston, South Carolina.